Check out the top 3 proven ways to boost your blog and hence increase the traffic to money ratio in no time. These methods are applied and tested by top Blogger.
Keeping up with technology news is no easy task. Start-up's hatch overnight, new gadgets come out daily and software updates are constant.
When a device purchased yesterday becomes obsolete by tomorrow, how do you stay ahead of the curve? To find the answers, I took a look at the best tech blogs.
After analyzing a dozen of them, I noticed three major themes in their execution. The best tech blogs craft compelling content; they increase readership through reach and retention, and they use tech tools to stay competitive. Let's see how it's done so you can too boost your blog in no time.
Top 3 Proven Strategies To Boost Your Blog
Post only top-shelf content.

Use tech tools to stay competitive.
Now let's explore each strategy in detail.
1. Post only top-shelf content
The best tech blogs publish content so compelling that people want to CLICK, READ and SHARE.
Make it relevant and useful.
Compelling content is useful and serves a need. Resources, tips, and tutorials fuel the internet with answers to the most popular questions. For example, POPSUGAR is a lifestyle site with a global audience of over 100 million. Since technology is a major part of modern living, POPSUGAR has a dedicated tech section. Try searching the phrase iPhone tech tips on Google and you may see a POPSUGAR post titled "14 Game-Changing iPhone Tips You Might Not Know." These tips range from photo shortcuts to accessibility settings and are helpful for making everyday iPhone use more convenient. Handy shortcuts apply to every iPhone owner. No wonder POPSUGAR has 2.5 billion monthly views!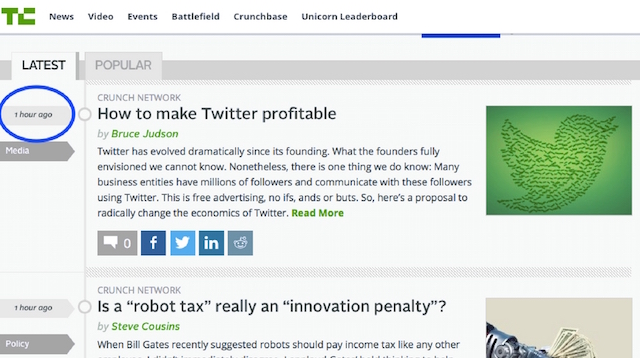 Keep it up-to-date.
The best tech blogs provide content that's new and newsworthy, which means it's being featured frequently and deals with popular or trending topics. The homepage of TechCrunch and Mashable date articles to the hour and sometimes up to the minute.
This constant flow of information demonstrates that these sites are delivering the latest information available.
Write killer headlines.
Which takes me to the next point: Compelling content has great headlines. A reader's decision after skimming a headline is to click or not to click. The best tech blogs get the reader to CLICK with headlines that have enough data to be informative and enough mystery to keep the reader curious and wanting more.
There are some superstar mom bloggers who do an impressive job with headlines. Check out the top posts in the sidebar of Cool Mom Tech for insight into savvy headline construction. My favorite is "15 Instagram Tips Everyone Should Know." This headline tells me upfront how long the post is and also prompts me to CLICK to learn the tips everyone needs.
Get a blog address they'll never forget. Try .tech, .review or .world.
Credibility is everything.
In the era of fake news, verifying facts and attributing sources is key. I turn to established brands like the Wall Street Journal and New York Times to study journalistic formatting rules. Photos have explanatory captions. Articles have authors. References are sourced or hyperlinked. The more confident and transparent bloggers can be with their sources, the less likely they are to propagate fake news and the more likely they are to develop a loyal following.
How many times have you been to a site where a subscribe window pops up before you're allowed to see the content? To constantly increase the number of readers on your blog, you'll need to build an email list. Email newsletters help keep your most loyal readers coming back.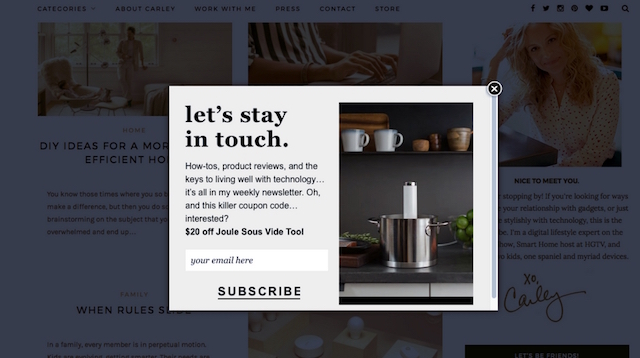 The best tech blogs extend their reach with a strong social media presence.
Facebook, Twitter, Instagram, and YouTube are easy places for readers to follow and engage with blog authors. Social media delivers your blog content in snackable bits that are easily consumed when skimming a news feed.
I like how the Today Show's digital lifestyle expert Carley Knoblock (Making Heads or Tails of Digital Life) employs both of these strategies on her blog. Visit her website and get an invite to subscribe. Scan the top of her website for quick access to her social media channels. Follow her on Instagram to see the latest blog post framed in a stunning feature image. Carley knows the drill!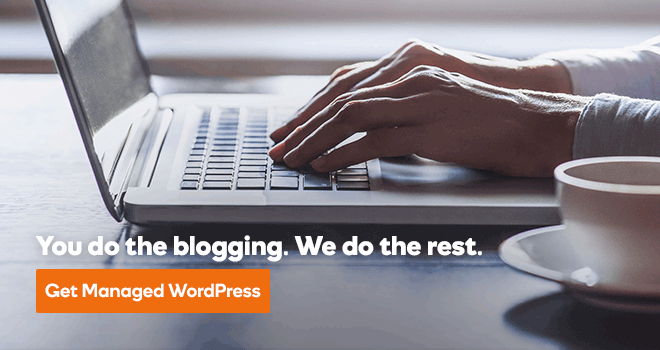 3. Use tech tools to stay competitive
The pressure is on for tech bloggers to practice what they preach and use tech tools to optimize their sites. This includes:
Twitter Cards for graphically formatted tweets.
Feature images to make blog posts pop.
Share buttons to easily distribute content throughout social networks.
SEO plugins that optimize your content so it attracts search traffic.
Let's not forget the podcast.
In addition to the basics mentioned above, some of the best tech blogs ramp up their content delivery with podcasts.
Instead of writing a one-way point of view, why not host interactive interviews and discussions via podcast then distribute them through iTunes?
Hearing voices introduces a human element into the publication and helps people connect to the brand through real-life conversations.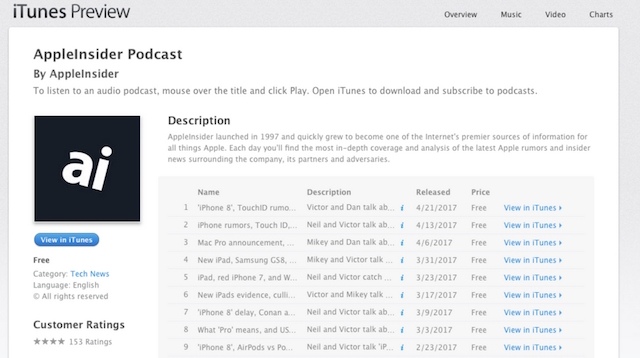 Apple Insider's podcast is published weekly and can be accessed directly from the top menu bar of the blog. This podcast covers device features, new product launches, and Apple corporate news.
So, what's your niche?
Now that you have an idea of the strategies used by the best tech blogs, what type of site will you create? Technology has so many branches, there are plenty of rabbit holes to call your own:
Apps
Gaming
Parenting in a digital world
Social media trends
Wearable tech
Green tech
Mindful tech
Data analytics
Online privacy
Once you've chosen a focus, do some competitive research with SEMrush. Type in a leading site in your focus area to see the top competitors. For example, here are the sites that come up as competitors to TechCrunch.com: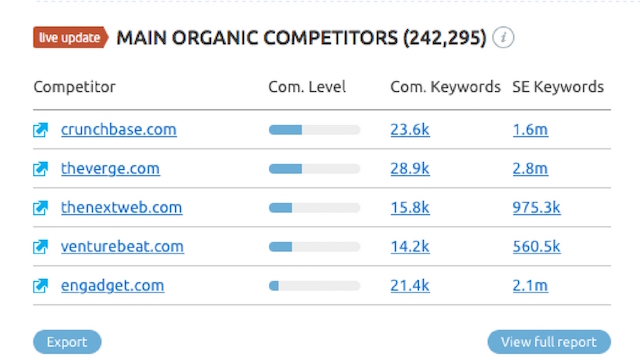 These are some the methods employed by almost all top blogger to boost their blogs. And are the most working type of method to use.
Let's not miss the credit. This was originally published on MEDIUM and Godaddy Blog.
This is the article that helped many bloggers to achieve their target in no time so they can boost their own blog. By following the above-mentioned procedure you can too boost your blog and can make this your full-time career option.
Save